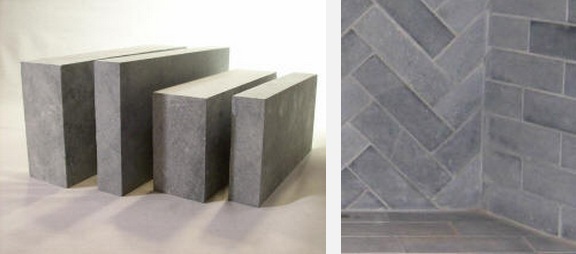 Soapstone Bricks are above in the picture in the 4 sizes.  Also above is a visual example of them being used for a fireplace insert.
For a free quote you can also e-mail us or call 802-468-8800 for pricing! As a result of our supply we can fill any size order.
While other firebricks will break over time these have the best heat resistance of anything like it on the market. Soapstone firebricks work great for fireplaces, fireplace surrounds, outdoor bbq pits, and many more uses. In addition it's also the same Soapstone being used with masonry heaters. Due to the demand we offer standard ASTM sizes. Please call us today at 802-468-8800 for pricing!
Sizes of Soapstone Bricks we have available and in stock :
7 3/4″ x 3 3/4″ x 1 1/4″
7 3/4″ x 3 3/4″ x 2 3/8″
9″ x 4 1/2″ x 1 1/4″
9″ x 4 1/2″ x 2 3/8″