Soapstone Cookware by TemperatureWare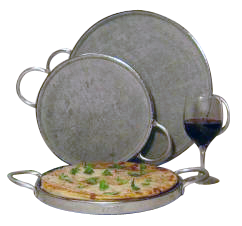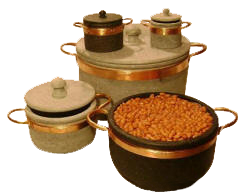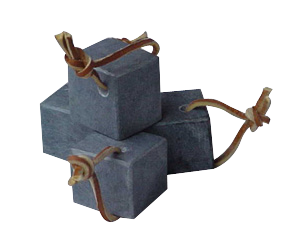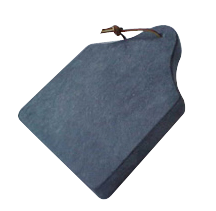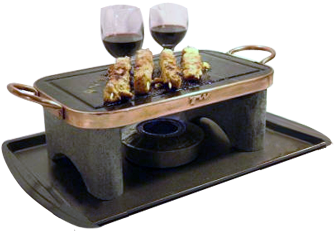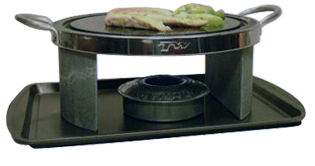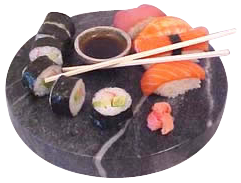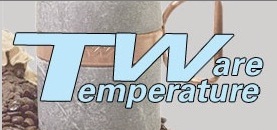 Soapstone Cookware and Natural Stone Cooking, Baking, Grills, and Mugs are now all available in 100% Soapstone. We even offer stone "ice cubes" for the discerning drinker that prefers no dilution.
Soapstone is a natural quarried stone that has the amazing ability to retain temperature.  Due to its mineral composition of talc and magnesite, this extremely dense stone has the extraordinary ability to hold heat longer and also hold cold temperatures longer than conventional cookware and kitchenware.
An array of kitchen gourmet soapstone cookware along with coolware unsurpassed by modern technology awaits you…  The possibilities in and around the kitchen are endless.
Pizza Stones

Soapstone Pizza Stones have a long tried and true tradition for cooking pizza crusts perfectly! These pizza stones are great for cooking and serving on. The Soapstone surface heats very evenly and "the results are in the pie". You will never have a more evenly cooked better tasting crispy crust. Ever! The stones are adorned with a copper ribbon band and copper handles. Once seasoned, the stones take on a dark blackened patina, and are easy to rinse and clean.
The Pizza Stones get pre-heated with your oven, once to temperature, fixings are placed on top of the hot stone and put back into the oven until cooking is completed. Served on the hot Soapstone Pizza stone right out of the oven, pizza will stay "hot to the last slice"
We have three sizes available of the Pizza Stone with Copper Handles. 10″, 12″ and 15″ are all available right now on our online store, please click here to purchase them or give us a call to order.

Soapstone Cups & Mugs, Grills & Griddles, Soapstone Pots & Pans, Sake & Sushi, Tortillas & Sauté & more!
We carry a full line of soapstone pots, saute cookers and more! TemperatureWare Orders ship within the 48 Continental US States – additional charges will be billed for shipments outside the US. Please call us to get a quote. 866-Soapstone

Custom Logos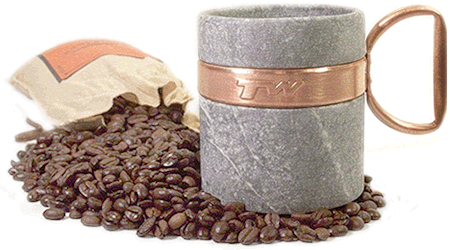 Custom Logo Imprints require a $300 one-time die charge with no additional per-unit charge thereafter.  Processing and delivery takes approximately 8 – 12 weeks. Natural Soapstone Coffee Mugs. Keeps Coffee and Tea Hotter Longer. Available in Copper or Brass, Sizes available in 8 or 12 oz.

Soapstone Cookware Preparation Instructions
This is a natural product made from selected soapstone. It should be prepared for use by following the procedure below. This curing procedure is only necessary before first use in order to ensure a long and trouble free life.
• Grease the product all over, inside and out, with vegetable oil
• Fill it with water at room temperature and place it in a cool oven
• Set the oven temperature at 350º F and bake for two hours
• After the two hours, turn off the oven and leave the product inside until the oven cools down
• Repeat this process once more (do not forget to grease the product again)
• When the oven has cooled from the second cure, remove the product from the oven and wash and rinse it
• The product is now ready for use

Important notes:
When using soapstone kitchenware products avoid sudden changes in temperature and avoid direct flame heating of stone. Avoid direct contact with flat Cook-top surfaces. A steel type trivet can be used to elevate cookware from these surfaces.
Some soapstone products, such as frying-pans and pizza plates do not lend themselves to a water-based curing procedure. In these cases, we recommend using a lower temperature (300º F) and baking the product twice after greasing.
The manufacturer and his agents shall not be responsible for breakage or failure of the products resulting from failure to cure or miss-use of the products.