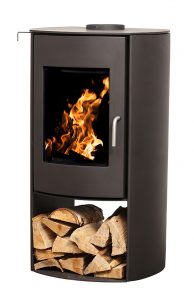 Retail: $4,685
Available for shipping at the end of June, 2020.
Elegant, powerful heating with high efficiency and low emissions. N65is one of the cleanest burning wood stoves on the market. With stunning design, simple operation, and exceptional performance,N65 sets the standard for modern stoves.
What Separates N65 From OtherWood Stoves on the Market?
EPA 2020 compliant
N65 is one of the first wood stoves with contemporary styling to meet the Environmental Protection Agency's strict 2020 emissions regulations.
Non-catalytic
Most contemporary steel wood heaters use catalytic converters to regulate emissions. N65 is non-catalytic making it easy to operate with less maintenance while still exceeding strict emission standards.

Proudly Australian
While most high-end wood stoves in North America are imported from Europe,N65 is designed in Australia. Nectre has a long history of quality craftsmanship that spans over 40 years.